Introduction
Clarion, the February 2012 template release, is a subtle theme, primed for business use or as a platform for extensive individual customization.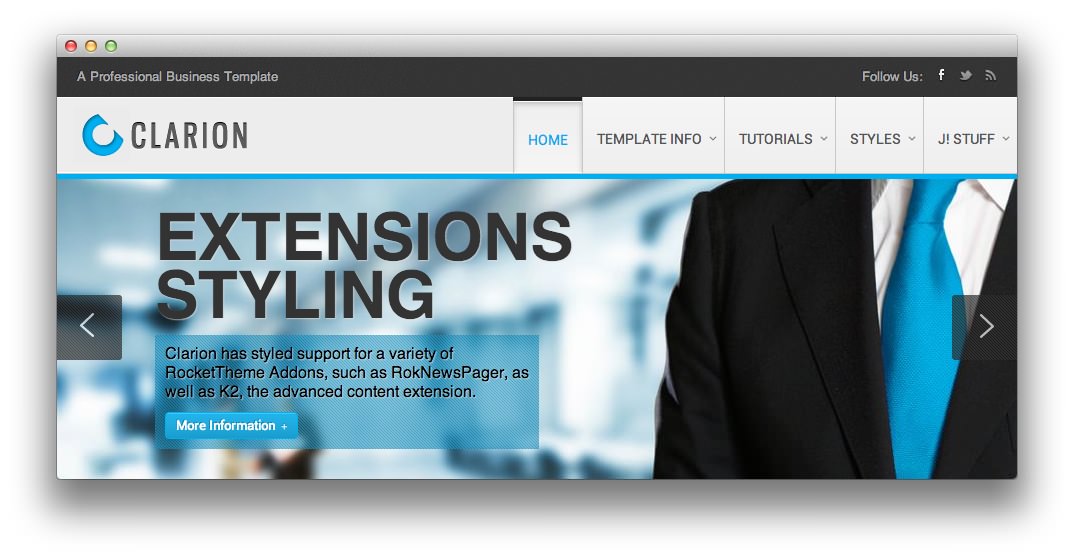 Built on the Gantry Framework, Clarion has a range of powerful, flexible and intuitive features and functions. The administrative interface offers a user friendly control panel for intricately customizing the template layouts.
Clarion has styled support for a variety of RocketTheme extensions, such as RokGallery, RokNewsPager, RokTabs, as well as K2, the advanced content extension.
NOTICE: Clarion is a Joomla 3.x Template.
Requirements
Apache 2.2+ or Microsoft IIS 7
PHP 5.3.10+ (PHP 5.5+ Recommended)
MySQL 5.1+
Joomla 3.4
NOTE: Gantry v3.x.18+, 3.2.15+ is required for Clarion to work correctly. For more details on the Gantry Framework, please visit its dedicated website.
Key Features
Joomla 1.5 (unsupported) / 2.5 / 3.x versions
12 Preset Styles
Powerful Core Gantry Framework
iPhone/Android viewing support
Styled Support for K2
RocketTheme Extensions Styling
Custom Content Typography
Fusion MegaMenu & Splitmenu
Load Transitions
78 Module Positions
26 Structural & 12 Stylistic suffixes
FF, Safari, Chrome, Opera, IE8+ Compatible
W3C XHTML 1.0 / CSS Valid
Responsive and fixed versions of this template are available from the template's download page.
RokGallery Powered Template
RokGallery is a ground-up revolutionary gallery extension, developed to be hugely flexible, customizable and thus extendable far into the future.
Slideshow Layout

RokGallery Slideshow Layout is facilitated by Mootools to transition between images seamlessly.
Photo Gallery

RokGallery offers an advanced photo gallery solution for Joomla, that rests on a custom tagging architecture, combined with native application slice editing, which Clarion provides integrated styling for.
Styled Support for K2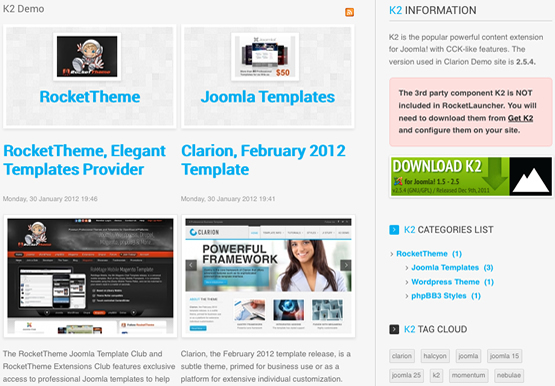 K2 is an integrated solution for Joomla! similar to CCK for those acquainted with Drupal. Using K2, you can transform your Joomla! website to a news or magazine site.
RocketTheme Extensions Styling
A selection of our RocketTheme Extensions have been styled to integrate with the template:
RokTabs: A tabbed based content module, with advanced display controls.
RokFeatureTable: A stylistic and highly configurable tabular data displayer.
RokNewsPager: A snippet content previewer, supports accordion and list layout styles.
RokMiniEvents: A simple and elegant solution for displaying events on your site.
RokAjaxSearch: An advanced ground-up revolutionary Joomla! gallery extension.