FP RokSprocket Features - Showcase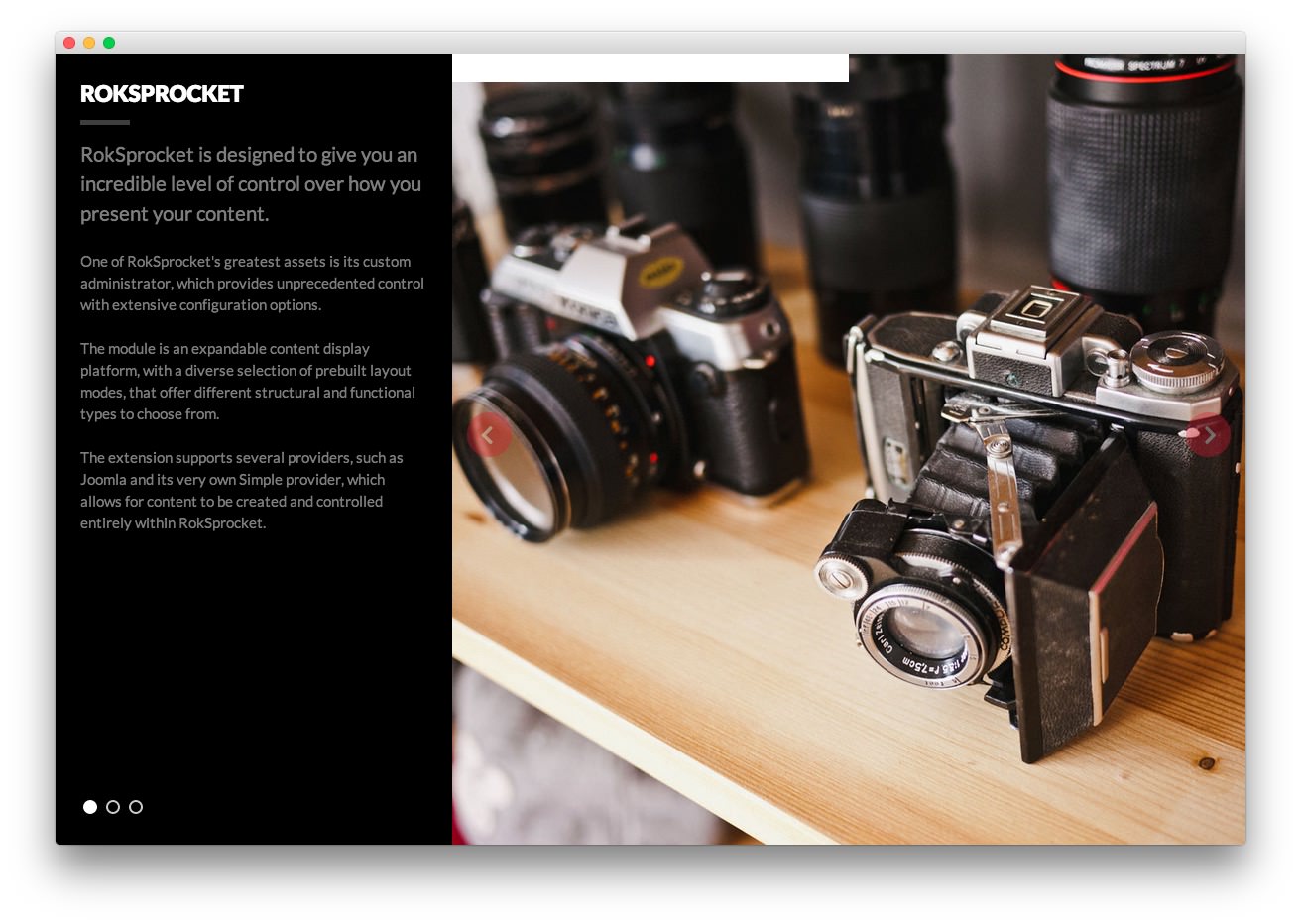 The RokSprocket Features module used near the top of the front page is a great way to feature some of your site's more notable articles or areas of interest.
We utilized the Simple Content Provider, allowing us to create custom content independent of full articles. The Title, Description, and Image fields in each article have been altered. A few examples of these article changes can be found below, excluding the Image and Link fields which will likely not work on your local copy as the links will be different.
Details

| Option | Setting |
| --- | --- |
| Title | FP RokSprocket Features - Showcase |
| Show Title | Hide |
| Access | Public |
| Position | showcase-a |
| Status | Published |
| Content Provider | Simple |
| Type | Features |
Filtered Article List
Article 1
Title
<span class="wow fadeInDown">RokSprocket</span>

Description
<span class="wow fadeInUp" data-wow-delay="0.5s"><span class=
"rt-lead">RokSprocket is designed to give you an incredible level of control
over how you present your content.</span><br>
<span>One of RokSprocket's greatest assets is its custom administrator, which
provides unprecedented control with extensive configuration options.</span><br>
<span class="visible-desktop">The module is an expandable content display
platform, with a diverse selection of prebuilt layout modes, that offer
different structural and functional types to choose from.</span> <span class=
"visible-large"><br>
The extension supports several providers, such as Joomla and its very own
Simple provider, which allows for content to be created and controlled entirely
within RokSprocket.</span></span>

Article 2
Title
RokBooster

Description
<span class="rt-lead">RokBooster is an advanced performance plugin, that will
compress and collate CSS and JavaScript.</span><br>
<span>RokBooster also provides data URL conversion for Fonts as well as inline
or background images, which converts files to inline data.</span><br>
<span class="visible-desktop">It reduces the HTTP calls count as well as the
data load size, dramatically increasing site speed.</span> <span class=
"visible-large"><br>
RokBooster provides an extensive array of control options, to set all the
compression variables through one interface, providing individual enabling and
configuration.</span>

Article 3
Title
RokBox

Description
<span class="rt-lead">RokBox is a fully responsive, multi-media modal input
"pop-up" plug-in for the Joomla CMS.</span><br>
<span>The essence of RokBox is data-sets placed in hyperlinks. Inside the
hyperlink, data-sets generate JavaScript which produce a stunning modal canvas
<span class="rt-displayinline"><span class="hidden-phone rt-displayinline">for
a variety of media</span></span>.</span><br>
<span class="visible-desktop">RokBox has a number of different data-sets, each
with a specific meaning and all optional with the exception of "data-rokbox"
which is used to activate the RokBox plugin.</span><span class=
"visible-large"><br>
RokBox also has a built-in editor button that generates RokBox snippets for
your Joomla Content, whether HTML or WYSIWYG. Available for Articles and Custom
HTML Modules.</span>

Layout Options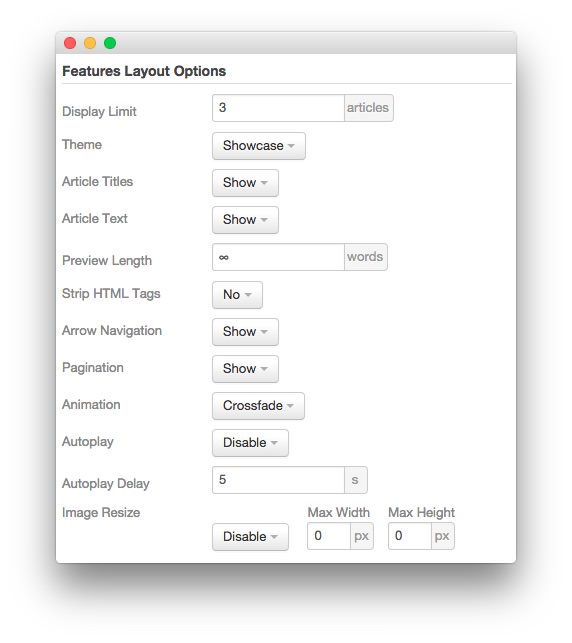 | Option | Setting |
| --- | --- |
| Display Limit | 3 |
| Theme | Showcase |
| Article Titles | Show |
| Article Text | Show |
| Preview Length | ∞ |
| Strip HTML Tags | No |
| Arrow Navigation | Show |
| Pagination | Show |
| Animation | Crossfade |
| Autoplay | Disable |
| Autoplay Delay | 5 |
| Image Resize | Disable |
| Default Title | Default Article Title |
| Default Article Text | Default Article Text |
| Default Article Image | Default Article Image |
| Default Link | Default Article Link |
Advanced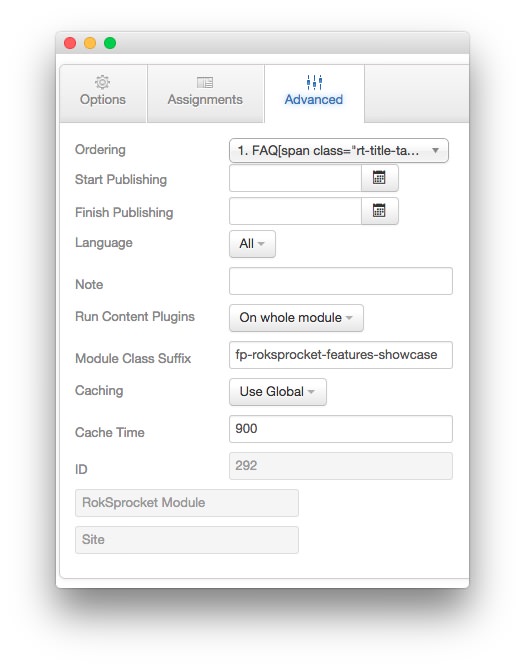 | Option | Setting |
| --- | --- |
| Module Class Suffix | fp-roksprocket-features-showcase |