How Can I Change my Avatar?
Your forum avatar is linked to your RocketTheme.com profile. You can change it by navigating to your Forum Profile settings page by selecting your profile image at the top of any page on the RocketTheme site and clicking User Profile.
You will need to be logged in for this option to appear, so you can alternatively select the blue Login button above the menu bar before doing so.
You can also access this page by clicking this link.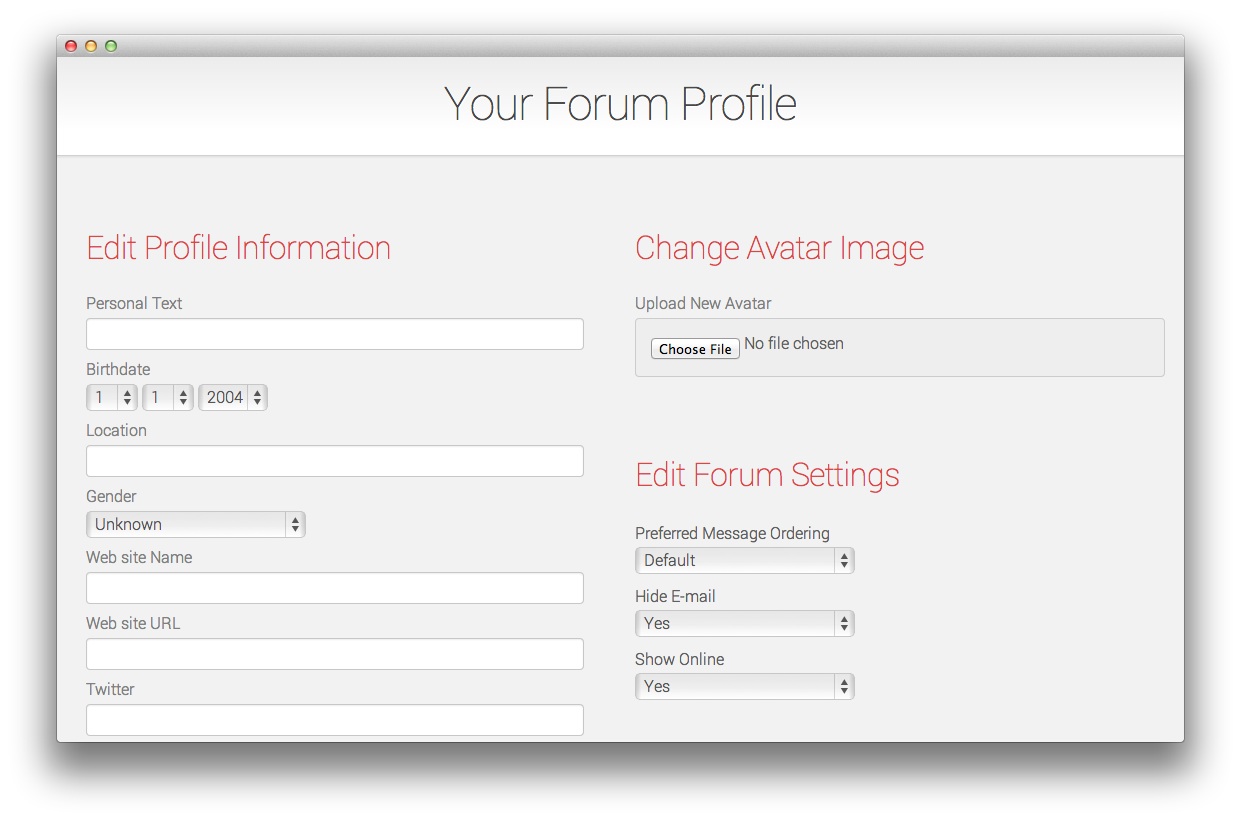 Once you have accessed the page, you can add your own avatar by selecting Choose File under Upload New Avatar. Once you have selected the image file you wish you use, simply upload it and the change should be made to your account.
How do I Find More Information About Orders I Have Made?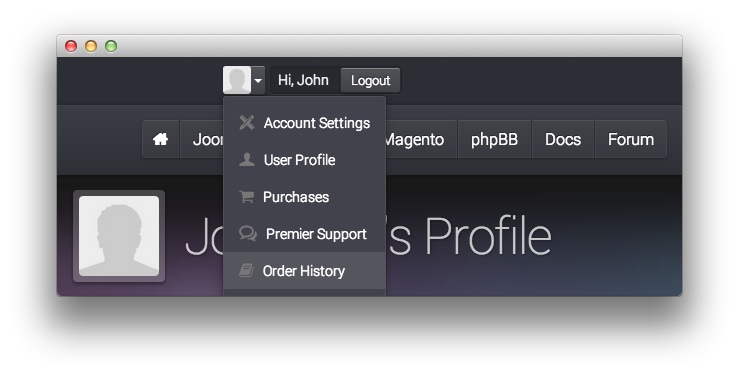 Let's say you want to print a copy of the invoice for a previous purchase from RocketTheme. You can do this by going to your profile's Order History page. You can do this by selecting your profile at the top of any RocketTheme site page and selecting Order History from the drop-down list. You can also access the page by clicking this link.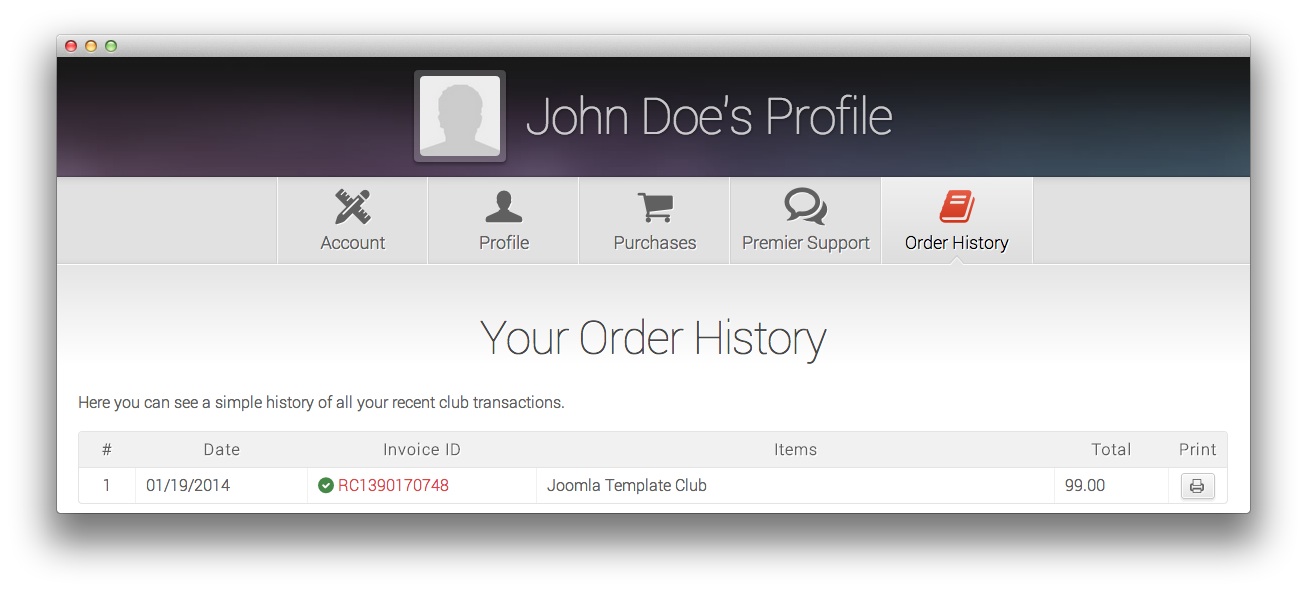 From there, you will see a list of previous orders. You can see the date, Invoice ID, Item(s) purchased, total, and print directly from this page. The Print button will send you to a page with a printer-friendly version of the entire invoice for the selected order.
When Does My Club Membership Expire?
You can find the activation and expiration date of your current Club memberships by visiting the Purchases page of your profile. This page can be accessed directly through the main account drop-down menu at the top of each RocketTheme site page. You can also access this page by clicking this link.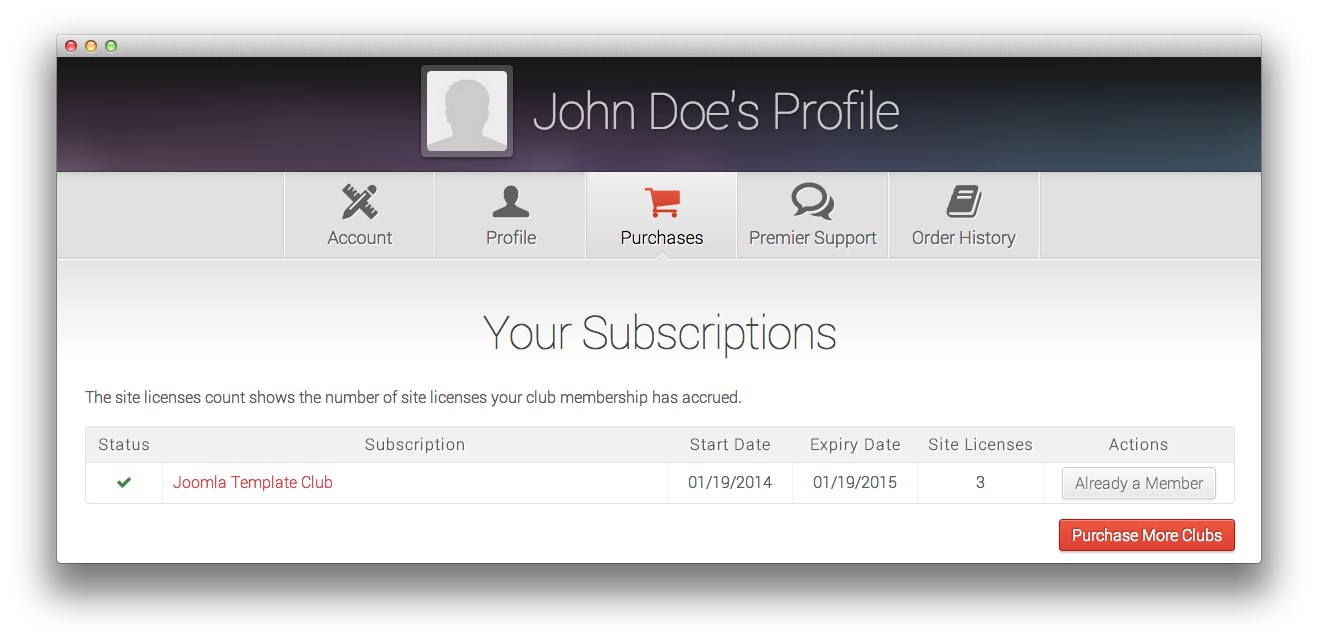 Here, you can see your subscriptions, their start and expiry date, the amount of site licenses included, and have the option to renew and/or purchase new memberships.
How Do I Use Search?
Our site is equipped with an extremely powerful search feature built on Elasticsearch. You can access it any time by clicking the Search RocketTheme field in the upper-left area of each page on the site. You can search directly from this field. You can also do some platform-level filtering by selecting the filter icon and choosing the platform you wish to search for.
1

Filter

The filter allows you to quickly jump to results for a specific platform.

2

Search Icon

Clicking this, or hitting Enter will take you to the main Search page.
If you want more control over your search, you can hit Enter after typing in your desired search term and refine it using the Filter by Platform and Filter by Type options below the main field on the Search page.
1

Filter

The filter allows you to quickly jump to results for a specific platform and/or page type.