Introduction
Radiance, the September 2011 template release, features an advanced Color Chooser setup, supporting a Background Picker, allowing you to load a background image from RokGallery or the Joomla Media Manager with ease, alongside the standard array of color options.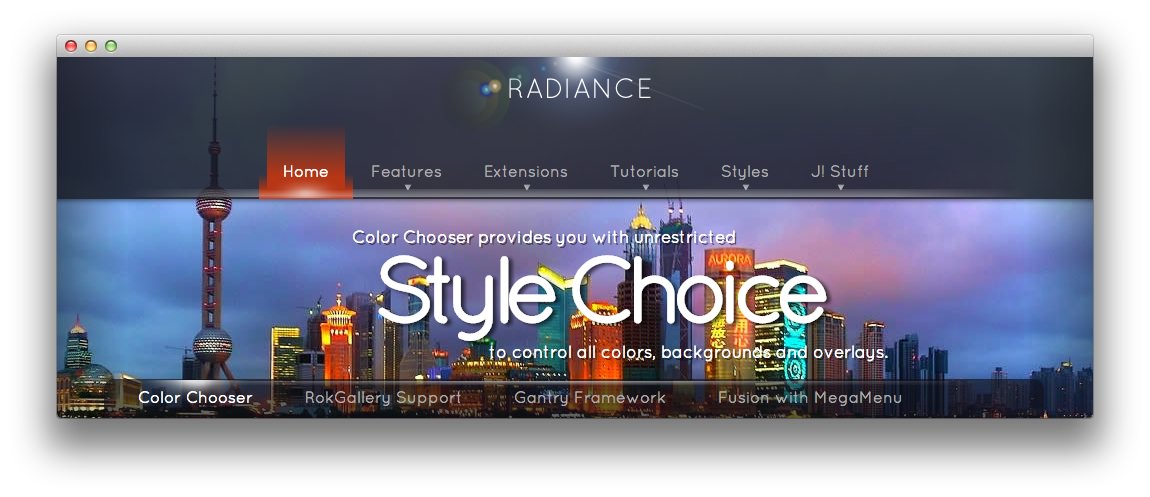 The template's stylistic versatility rests on a foundation of other features, with integrated styling for RokTabs, RokGallery, amongst other RocketTheme extensions, as well as the Gantry Framework, iPhone/Android support and more.
NOTICE: Radiance is a Joomla 3.x template.
Requirements
Apache 2.2+ or Microsoft IIS 7
PHP 5.3.10+ (PHP 5.5+ Recommended)
MySQL 5.1+
Joomla 3.4
For more information, visit our Gantry documentation.
NOTE: Gantry v3.1.16+, 3.2.9+ is required for Radiance to work correctly.
Key Features
Joomla 1.5 (unsupported)/2.5-3.x versions
Color Chooser with Background Picker
RokGallery Extension Integration
Gantry Framework
6 Preset Styles
RocketTheme Extensions Styling
Custom Content Typography
Fusion & Splitmenu
Load Transitions
56 Module Positions
29 Module Variations
FF, Safari, Chrome, Opera, IE8+ Compatible
W3C XHTML 1.0 / CSS Valid
Color Chooser with Background Picker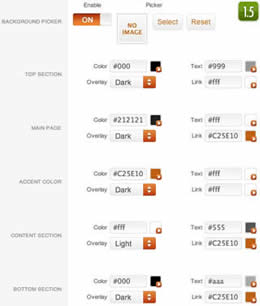 A Color Chooser template uses CSS color values, combined with transparent overlay images, to determine its color and style. Therefore, you can change the entire color scheme via the Gantry Administrator.
Background Picker

The Background Picker allows you to load a background image, either through RokGallery or the Joomla Media Manager.
Files Window: View all individual images from RokGallery
Galleries Window: View all galleries from RokGallery
Selection Window: Select the individual slice of a file
Media Manager: Load an image from the Media Manager