Frontpage Showcase A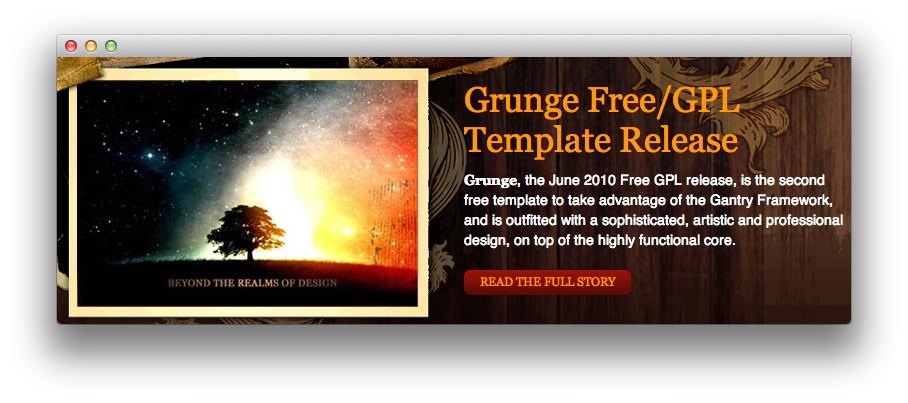 This area of the front page is a RokStories widget. You will find the settings used in our demo below.
RokStories is a legacy plugin by RocketTheme for WordPress. You can replicate this look using RokSprocket or a Text widget. We've included the instructions for Text below.
Text Method
Widget Info
| Option | Setting |
| --- | --- |
| Title | Blank |
| Show Title | Hide |
| Position | Showcase |
Custom Output
Enter the following in the Custom Output text editor.
<div class="rokstories-layout2">
<div class="feature-block"><img class="floatleft rt-sample-rokstories" src="http://example.com/images/stories/demo/frontpage/showcase1.jpg" border="0" alt="image" /> <span class="feature-title">Grunge Free/GPL Theme Release</span>
<p class="feature-desc"><strong>Grunge</strong>, the June 2010 Free GPL release, is the second free theme to take advantage of the Gantry Framework, and is outfitted with a sophisticated, artistic and professional design, on top of the highly functional core.</p>
<div class="readon"><a href="#"><span>Read the Full Story</span></a></div>
</div>
</div>

---