FP Content Top A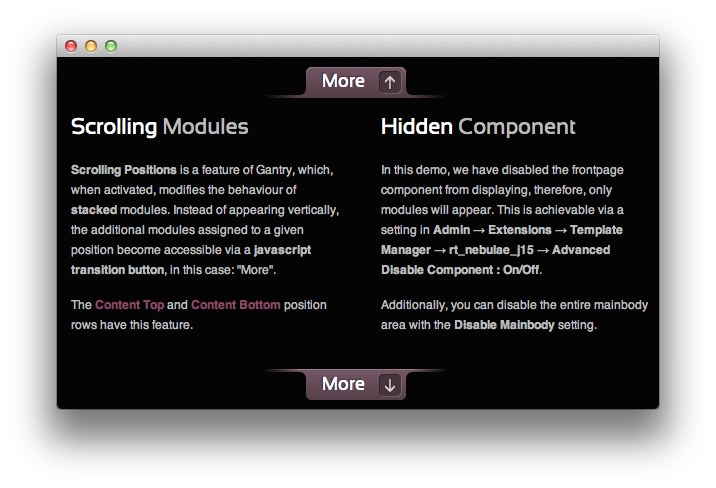 This area of the front page is a standard mod_custom module. The settings we used in the demo are listed below.
This module is the second part of a two-module set beginning with FP Scroller Images which appears at the top of two stacked modules. You can switch between these modules on the frontend by clicking the More button above and below the module content body.
Any mod_custom (Custom HTML) modules are best handled using either RokPad or no editor as a WYSIWYG editor can cause issues with any code that exists in the Custom Output field.
Details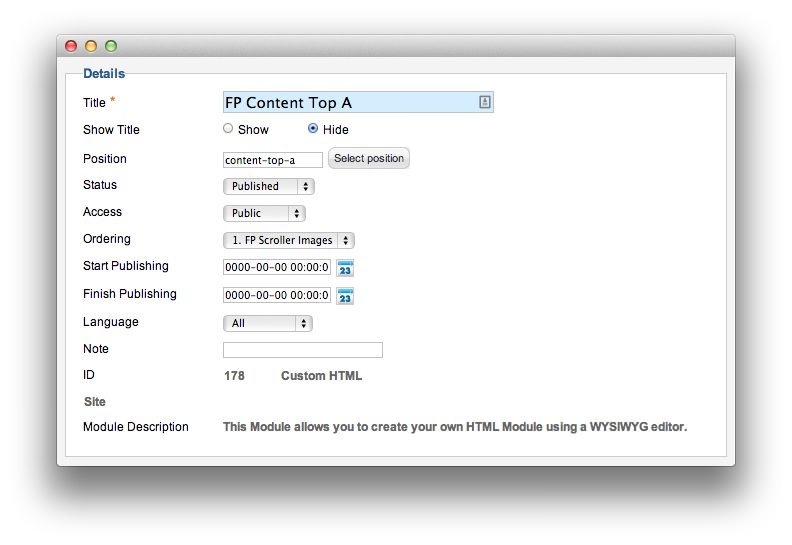 | Option | Setting |
| --- | --- |
| Title | FP Content Top A |
| Show Title | Hide |
| Position | content-top-a |
| Status | Published |
| Access | Public |
Custom Output
Enter the following in the Custom Output text editor.
<div class="rt-demo-grid-4">
<div class="module-title"><h2 class="title">Scrolling Modules</h2></div>
<p><strong>Scrolling Positions</strong> is a feature of Gantry, which, when activated, modifies the behaviour of <strong>stacked</strong> modules. Instead of appearing vertically, the additional modules assigned to a given position become accessible via a <strong>javascript transition button</strong>, in this case: "More".</p>
<p>The <a href="#">Content Top</a> and <a href="#">Content Bottom</a> position rows have this feature.</p>
</div>
<div class="rt-demo-grid-4 floatright">
<div class="module-title"><h2 class="title">Hidden Component</h2></div>
<p>In this demo, we have disabled the frontpage component from displaying, therefore, only modules will appear. This is achievable via a setting in <strong>Admin &rarr; Extensions &rarr; Template Manager &rarr; rt_nebulae_j15 &rarr; Advanced Disable Component : On/Off</strong>.</p>
<p>Additionally, you can disable the entire mainbody area with the <strong>Disable Mainbody</strong> setting.</p>
</div>
<div class="clear"></div>

Basic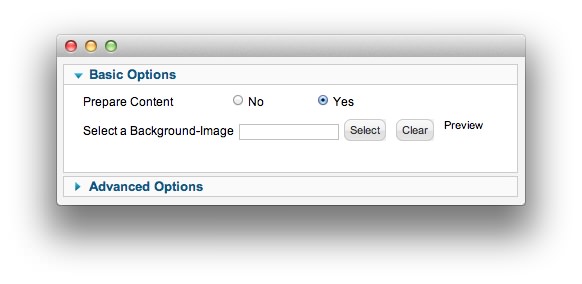 | Option | Setting |
| --- | --- |
| Prepare Content | Yes |
| Select a Background Image | Blank |
Advanced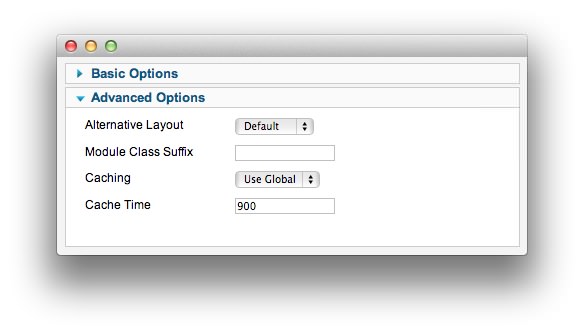 | Option | Setting |
| --- | --- |
| Module Class Suffix | |