Introduction
Panacea is an elegant design, featuring an intuitive color chooser that enables the user to quickly create a stunning site with rich color and a clean look.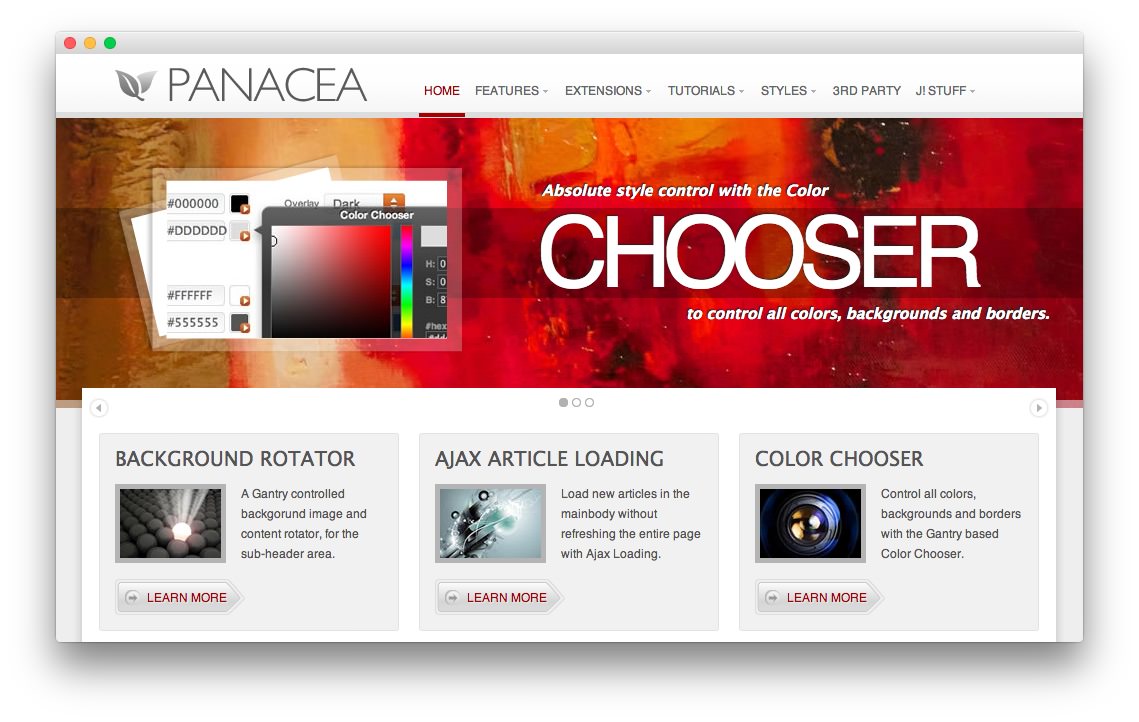 NOTICE: Panacea is a Joomla 3.x template.
Requirements
Apache 2.2+ or Microsoft IIS 7
PHP 5.3.10+ (PHP 5.5+ Recommended)
MySQL 5.1+
Joomla 3.4
For more information, visit our Gantry documentation.
NOTE: An updated version of the Gantry 4 Framework is required for Panacea to work properly.
Key Features
960 Fixed Layout
12 Preset Styles
68 Module Positions
13 Module Variations
Fusion-Menu and Split-Menu
Custom Typography
Logo Options
iPhone Theme
Mobile Menu
Static CSS Option
Color Chooser

Panacea encapsulates stylistic freedom with its Color Chooser with 12 preset styles, allowing for easy style customization with just a few clicks. Offering an unconventional approach to such designs, combining ease of alteration with a mainstream appearance.
Article Controls
The template extends the styling and abilities of Joomla Content. Firstly, there are controls for 3 Article Details layouts as well as 8 Article Styles; and secondly, Panacea also supports Ajax Loading for articles, meaning page refreshes are unnecessary for further articles.