Introduction

The Utility section includes a single Block Content particle placed in the Utility B module position.

Here is a breakdown of the module(s) and particle(s) that appear in this section:
Section Settings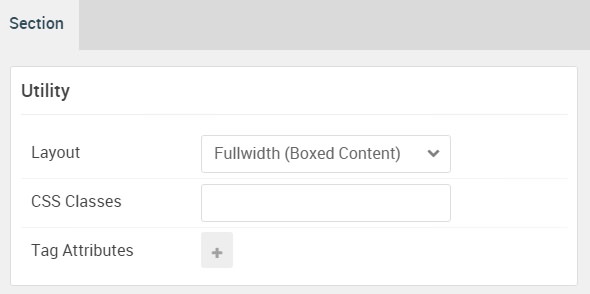 | Option | Setting |
| --- | --- |
| Layout | Fullwidth (Boxed Content) |
| CSS Classes | Blank |
| Tag Attributes | Blank |
Promo Content (Particle)
The Promo Content particle is a Gantry 5 Particle module placed within the utility-b module position. Adding a particle to a module position can be done by creating a Gantry 5 Particle module, adding the particle using the settings found in the section below, and assigning it to the position.
Module Position Particle Settings
Particle Settings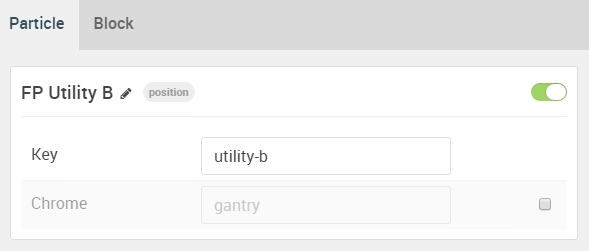 | Option | Setting |
| --- | --- |
| Particle Name | FP Utility B |
| Key | utility-b |
| Chrome | gantry |
Block Settings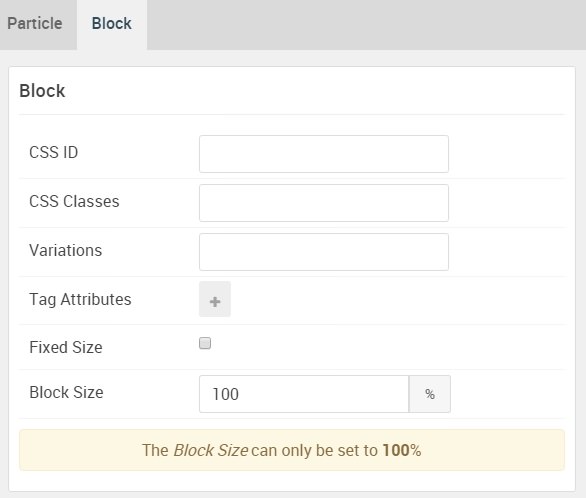 | Option | Setting |
| --- | --- |
| CSS ID | Blank |
| CSS Classes | Blank |
| Variations | Blank |
| Tag Attributes | Blank |
| Fixed Size | Unchecked |
| Block Size | 100% |
Block Content Particle Settings
Particle Settings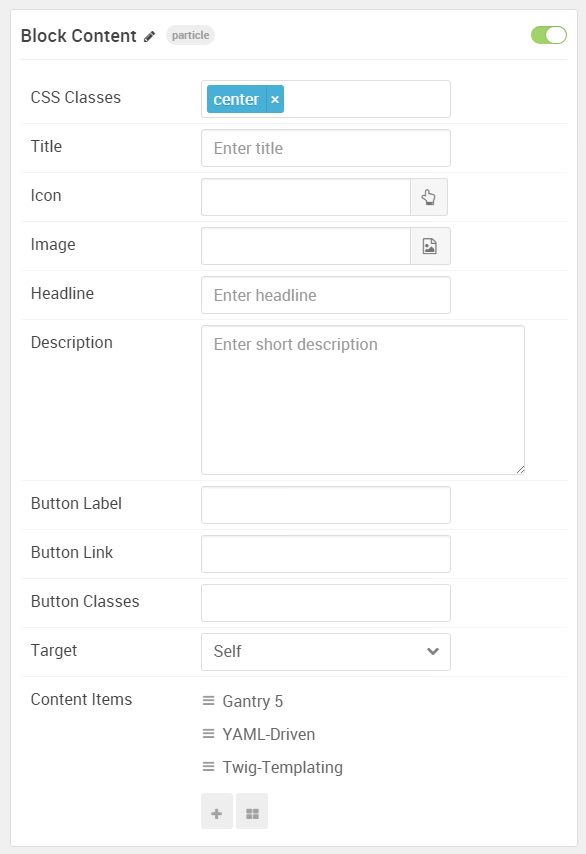 | Option | Setting |
| --- | --- |
| Particle Name | Block Content |
| CSS Classes | center |
| Title | Blank |
| Image | Blank |
| Headline | Blank |
| Description | Blank |
| Button | Blank |
| Button Text | Blank |
| Button Target | Self |
| Button Classes | Blank |
| Icon | Blank |
| Alt Text | Blank |
| Item 1 Name | Gantry 5 |
| Item 1 Title | Gantry 5 |
| Item 1 Icon | fa fa-heartbeat fa-fw fa-3x |
| Item 1 Image | Blank |
| Item 1 RokBox Image | Blank |
| Item 1 Caption | Blank |
| Item 1 Sub Title | Blank |
| Item 1 Description | Gantry 5 is an advanced, versatile and multi-platform template framework, perfectly designed for the modern web. |
| Item 1 CSS Classes | Blank |
| Item 1 Button Label | Blank |
| Item 1 Button Link | Blank |
| Item 1 Button Classes | Blank |
| Item 1 Target | Self |