FP RokSprocket Tables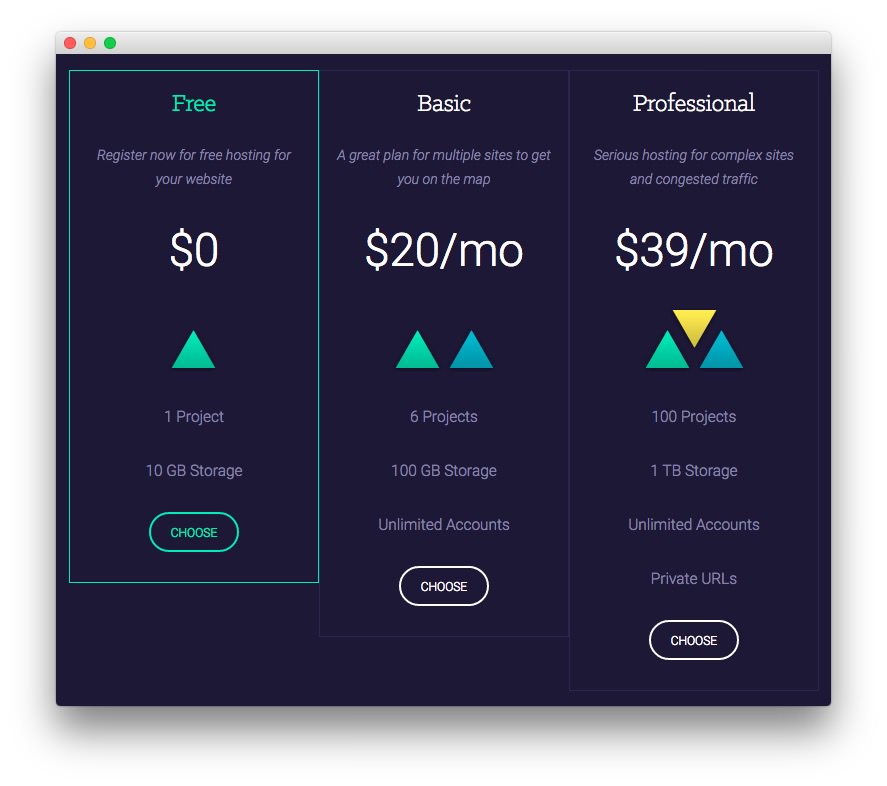 We used a RokSprocket module with the Tables layout to make up this area of the front page. You will find the settings used in our demo below.
We utilized the Simple Content Provider. You can find examples of the Simple items used in this module in the Filtered Article List section below.
Details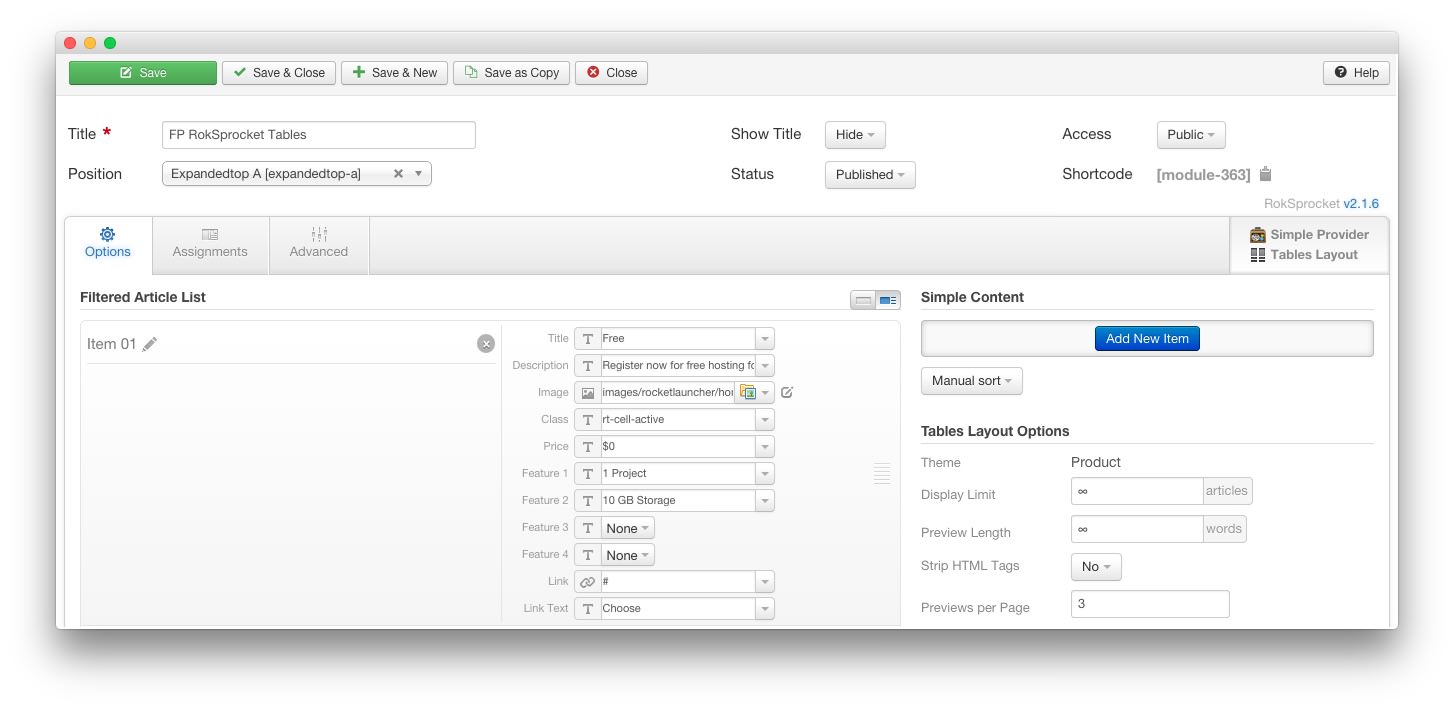 | Option | Setting |
| --- | --- |
| Title | FP RokSprocket Tables |
| Show Title | Hide |
| Access | Public |
| Position | expandedtop-a |
| Status | Published |
| Content Provider | Simple |
| Type | Tables |
Filtered Article List
Item 1
| Option | Setting |
| --- | --- |
| Title | Free |
| Description | Register now for free hosting for your website |
| Image | Custom |
| Class | rt-cell-active |
| Price | $0 |
| Feature 1 | 1 Project |
| Feature 2 | 10 GB Storage |
| Feature 3 | None |
| Feature 4 | None |
| Link | # |
| Link Text | Choose |
Item 2
| Option | Setting |
| --- | --- |
| Title | Basic |
| Description | A great plan for multiple sites to get you on the map |
| Image | Custom |
| Class | None |
| Price | $20/mo |
| Feature 1 | 6 Projects |
| Feature 2 | 100 GB Storage |
| Feature 3 | Unlimited Accounts |
| Feature 4 | None |
| Link | # |
| Link Text | Choose |
Item 3
| Option | Setting |
| --- | --- |
| Title | Professional |
| Description | Serious hosting for complex sites and congested traffic |
| Image | Custom |
| Class | None |
| Price | $39/mo |
| Feature 1 | 100 Projects |
| Feature 2 | 1 TB Storage |
| Feature 3 | Unlimited Accounts |
| Feature 4 | Private URLs |
| Link | # |
| Link Text | Choose |
Layout Options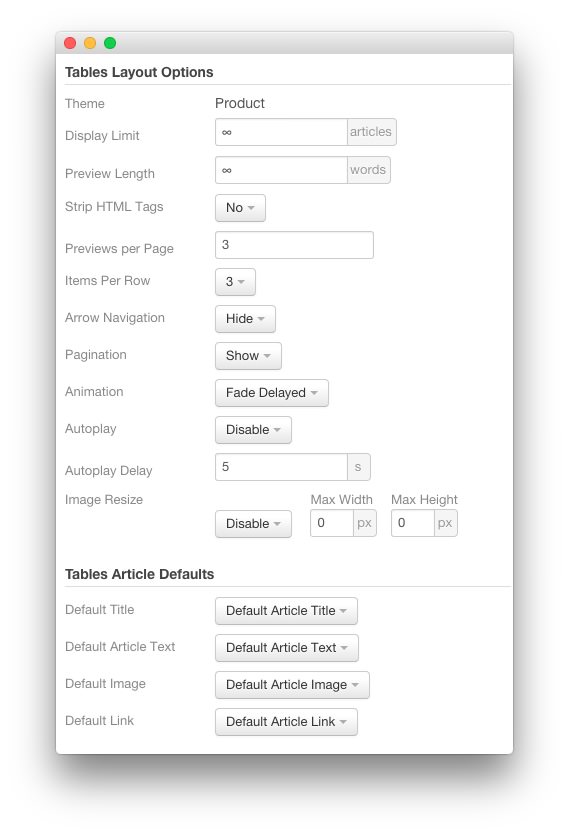 | Option | Setting |
| --- | --- |
| Theme | Product |
| Display Limit | ∞ |
| Preview Length | ∞ |
| Strip HTML Tags | No |
| Previews Per Page | 3 |
| Items Per Row | 3 |
| Arrow Navigation | Hide |
| Pagination | Show |
| Animation | Fade Delayed |
| Autoplay | Disable |
| Autoplay Delay | 5 |
| Image Resize | Disable |
Advanced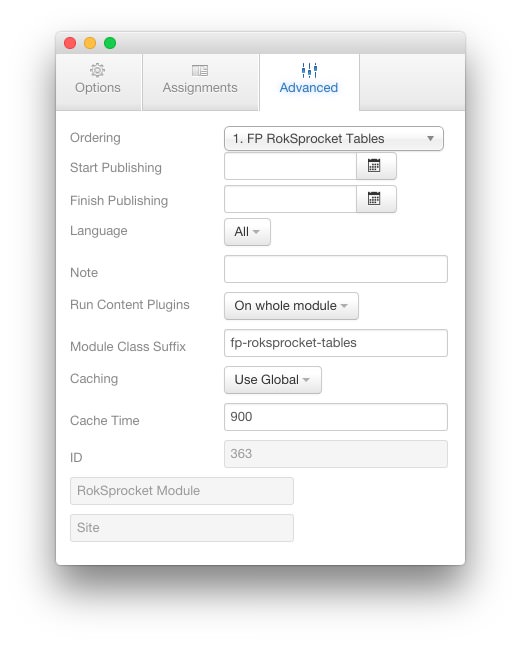 | Option | Setting |
| --- | --- |
| Module Class Suffix | fp-roksprocket-tables |