Introduction
Paradox combines a dynamic, interactive arsenal with style and beauty; achieved with a diverse array of presets. The theme's styles have varying background and bodylevels: High, Medium or Low, combined with the 8 presets, which allow for a varied appearance.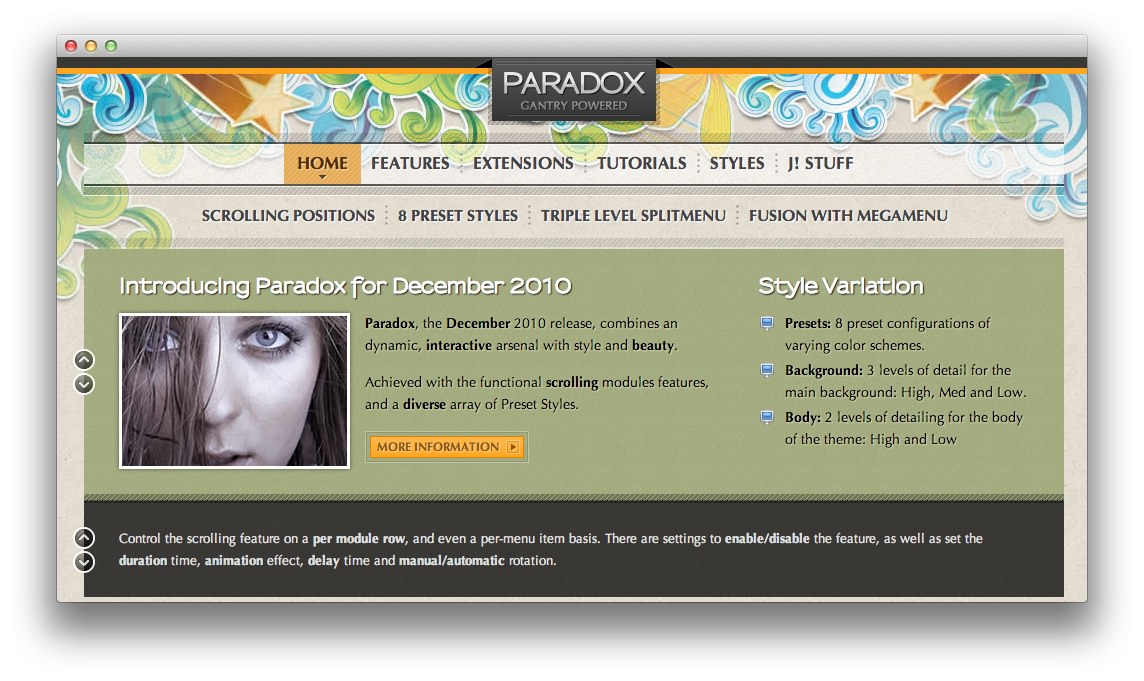 NOTICE: Paradox is a Joomla 3.x template.
Requirements
Apache 2.2+ or Microsoft IIS 7
PHP 5.3.10+ (PHP 5.5+ Recommended)
MySQL 5.1+
Joomla 3.4
For more information, visit our Gantry documentation.
NOTE: An updated version of the Gantry 4 Framework is required for Paradox to work properly.
Key Features
960 Fixed Layout
8 Preset Styles
70 Module Positions
25 Module Variations
Fusion-Menu and Split-Menu
Custom Typography
Logo Options
iPhone/Android Theme
Mobile Menu
Scrolling Modules
Scrolling Positions is a Gantry feature, which, when activated, modifies the behaviour of stacked modules. Instead of appearing vertically, the other modules become accessible via a button for the Top, Showcase, Feature or Bottom Module rows.
Triple SplitMenu

There are two menu options, Triple Level SplitMenu and Fusion. Triple Level Splitmenu splits the first level, second level and all further menu items, allowing for for a navigation bar, a dropline and a sidemenu, as configurable.